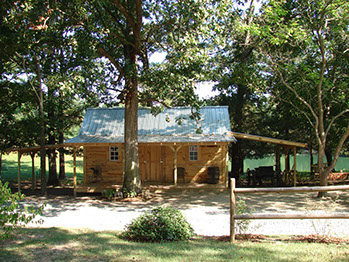 River Oaks Quarter Horses & Cattle Company is nestled among the tall pine trees of South Central North Carolina. Located thirty minutes from the North Carolina Zoo, and thirty minutes from the world famous golf courses of Moore County, River Oaks Cattle Company is the home to Foundation Pure Watusi Cattle.
Richard and Jean Broker founded River Oaks Quarter Horses on January 1, 1978. Foundation Quarter Horse breeding was soon the primary goal. In 1987, the business relocated to the current location in North Carolina. Additional Foundation Broodmares were added, as well as two Foundation Stallions. River Oaks Quarter Horses received local and national recognition for excellence in their Foundation Quarter Horse breeding program, and was featured in the Quarter Horse Journal in 1996. In July 2002, a decision was made to reduce the horse operation and expand into the cattle business.
River Oaks Cattle is registered through the NC Department of Agriculture
and Consumer Sciences and is the only registered breeder in North Carolina. Following the original goals of dedication and desire for excellence as demonstrated in the Foundation Quarter Horse operation, Ankole Watusi Cattle were selected. Pricing is determined by pedigree, conformation, color, horn size and spread. All of our Watusi cattle carry a 100%/30-day replacement guarantee. Each animal follows a rigid health care program administered by our local veterinarian. Health and pedigree papers accompany each animal. We invite you to browse through some of our current stock and contact us to learn more about the stock and hauling services we offer.